This is an old revision of the document!
---
hEIDI
hEIDI stands for (h) Exploitation et Intégration des Données d'Identification (Identification Data Exploitation and Integration)
Download is available at the following FTP site : ftp://ftp.cea.fr/pub/edyp/heidi
The last version of hEIDI 1.14.3 is compatible with IRMA 1..(LINK FTP) and MSIdb Schema version E…(LINK MSIDB)
This application helps user go further with identified data. It works on Mass Spectrometry Identification database (MSIdb) which compiles validated identification results and permit experts to do data mining on these results.
Indeed, hEIDI has been developed to integrate the EDyP laboratory analysis pipeline :

Samples acquisition on mass spectrometer (Raw data)

Process of generated raw data into peak lists

Identification of proteins using Mascot search engine

Validation of the mascot identification result using

IRMa

Exploit validated identification results by grouping identifications at the whole database level to remove redundancy or comparing multiple experiments …

Use cases
How-to
Find quick answer to your questions in the How to section.
Concepts
Versions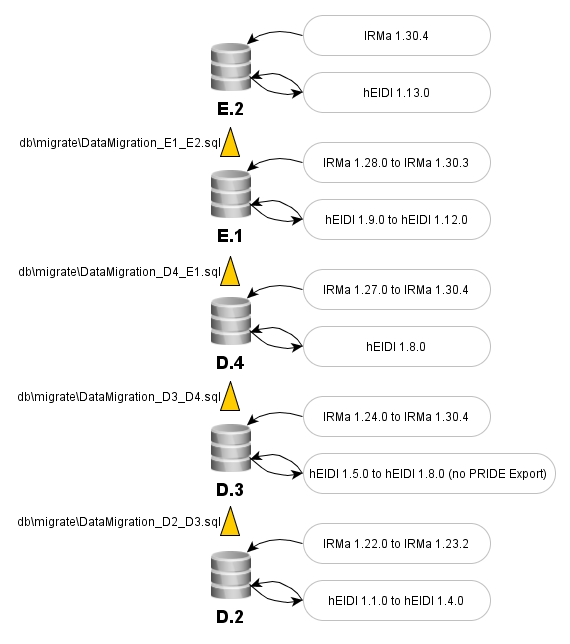 26/MAR/2013 hEIDI 1.14.3 is available. (DB model compatibility : E.2)
"Error creating the distribution"… Corrected version will come soon ! 15/JAN/2013 hEIDI 1.14.0 is available. (DB model compatibility : E.2)
29/FEV/2012 hEIDI 1.13.0 is available. (DB model compatibility : E.2)
05/DEC/2011 hEIDI 1.12.0 is available. (DB model compatibility : E.1)
01/AUG/2011 hEIDI 1.11.1 is available. (DB model compatibility : E.1)
22/JUL/2011 hEIDI 1.11.0 is available. (DB model compatibility : E.1)
08/MAR/2011 hEIDI 1.10.1 is available. (DB model compatibility : E.1)
01/FEB/2011 hEIDI 1.10.0 is available. (DB model compatibility : E.1)
28/OCT/2010 hEIDI 1.9.0 is available. (DB model compatibility : E.1)
12/OCT/2010 hEIDI 1.8.0 is available. (DB model compatibility : D.3 but D.4 required for Pride XML Export)
10/SEP/2010 hEIDI 1.7.0 is available. (DB model compatibility : D.3)
04/AUG/2010 hEIDI 1.6.1 is available. (DB model compatibility : D.3)
03/AUG/2010 hEIDI 1.6.0 is available. (DB model compatibility : D.3)
27/APR/2010 hEIDI 1.5.0 is available. (DB model compatibility : D.3)
29/JAN/2010 hEIDI 1.4.0 is available. (DB model compatibility : D.2)
17/SEP/2009 hEIDI 1.3.0 is available. (DB model compatibility : D.2)
22/JUN/2009 hEIDI 1.2.0 is available. (DB model compatibility : D.2)
22/APR/2009 hEIDI 1.1.0 is available. (DB model compatibility : D.2)