This is an old revision of the document!
---
Table of Contents
Getting Started
This tutorial will help you through the first steps using hEIDI. All the hEIDI features are not explained here.
Connecting
First of all, we need to get a connection on a Mass Spectrometer Identification database (MSI db). In the Service window, select the database server hosting the MSI DB and enter connection properties in approprated field.
Connection to a postgres server
hEIDI Projects
It is possible to create hEIDI projects in order to organise data. For now, data consist of SQL queries… To create a Project, click right in the Project window or choose File > New Project menu and only specify the project name in the wizard.
SQL Queries
Once the connection is successful, the first simple feature is to explore the database or create SQL queries. Information on MSI database and its model is available here .
You can create new SQL files from hEIDI project (File > New File menu then choose Empty File or directly New Empty File from hEIDI Project window) . It is also possible to select a Table under database connection and choose Veiw Data.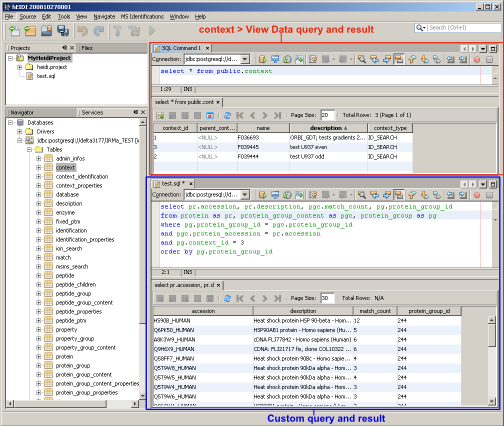 SQL queries sample
Open MSI Session
To open a working session on the MS identification database, select the connection in Service Window and open menu MS Identification > Open session.